Cheap Bulk SMS Service Provider Comparison in UK
In UK there are a number of cheap bulk SMS providers which means that it is so important reason to choose the right company for your text messaging service. Therefore you need to look for pricing schedules as well as reliability with a good customer service should need assistance.
Finding the best SMS service for a British business or organisation, one needs to know and understand the variety of features offered by a cheap bulk SMS provider when distributing SMS messages in bulk for marketing and communication purposes. A significant amount of research is required to really comprehend all the suitable conditions for distribution using a bulk SMS gateway.
A good appreciation of the critical factors such as features, price, reliability, reputation and certification such as ISO27001, ISO 9001 and GDPR for quality and security will be covered in this site for your evaluation.
A SMS Provider Comparison table has been developed to make it easier for you to appreciate the variety of features offered by the top cheap SMS bulk providers in UK.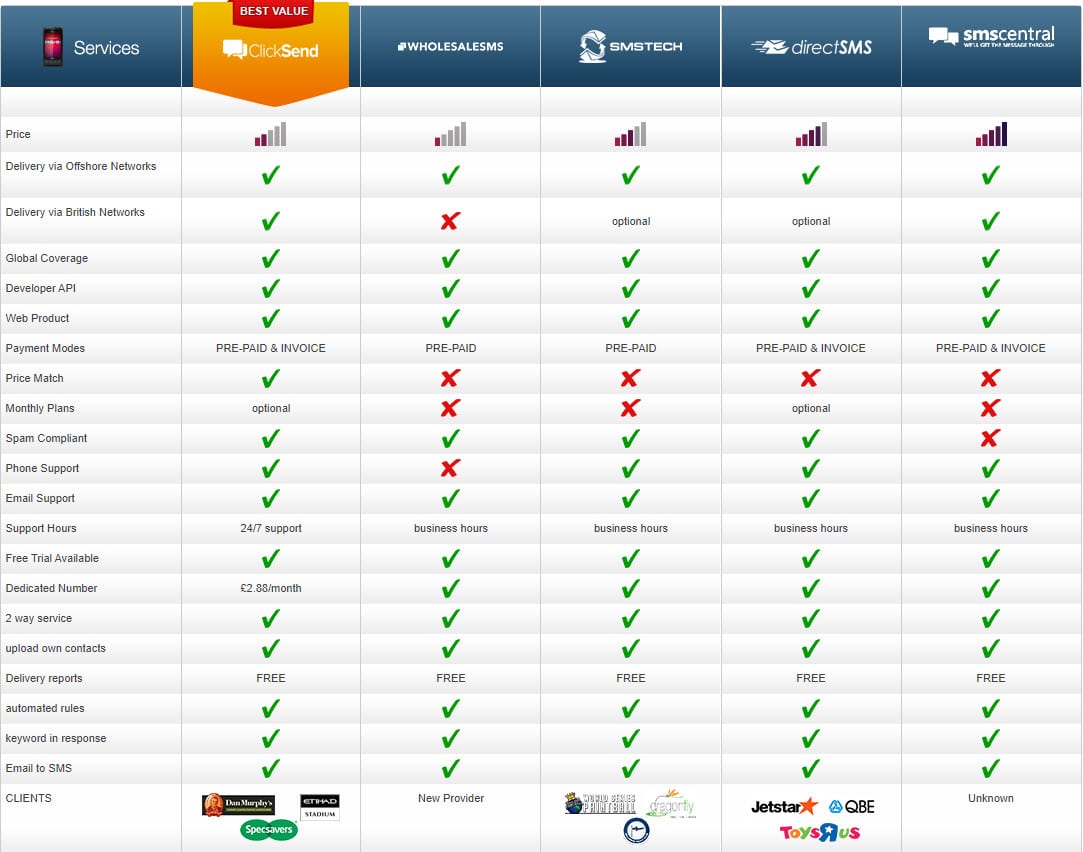 From the analysis of comparison table  provided, ClickSend is considered to offer the best value.
What do British SMS providers offer?
Many British companies are quickly learning the value and benefits of using a text messaging service for their organisations. Cheap, bulk SMS  services are commonly associated with marketing and communication campaigns, staff information, or special deals and alerts to customers. By providing a database of clients, customers, consumers, staff or general public, the whole process takes only a few minutes from start to finish. From then onwards, it will only take just a matter of a few seconds or minutes to send a text message whether the database contains hundreds or  thousands of contacts. It is a friendly, efficient and very effective means of communication. Imagine preparing a text message and then having it sent and read by over 92% of end users on their mobiles withing seconds of receiving it!
Within UK there are two set of bulk SMS gateway providers:
1) Premium Bulk SMS Companies offering high reliability and fast SMS execution but at higher prices.
2) Cheap Bulk SMS Companies offering low prices but reliability may be lower and delivery may take a longer period of time.
The names of cheap bulk SMS service providers in UK are large and varied and therefore you need to be discerning as to what are reputable, reliable and client service orientated companies to engage. As shown above in the SMS Comparison table,  cheap bulk SMS providers have been developed for your assistance in comparing a best set of features considered by your organisation to be important to you. These top SMS cheap providers include BurstSMS, SMS Broadcast, SMS Tech, ClickSend and DirectSMS.
As you can see form the table, the key selection criteria that are considered when choosing the most appropriate cheap provider to distribute your SMS include distribution, price, features, service support, reliability, offers and present clients.
Distribution and Features
One big advantage in sending a text message in mass through one of the UK bulk SMS provider selected from the comparison list is that there is no software required to download or install from your side. These providers are totally web based which means that the only requirement is for you to only have access to a web browser and the Internet.
SMS distribution is the most effective two-way process to send a message and get feedback if required. The business or organisation just needs to know that the bulk SMS provider can send a message to a large target audience and then can receive responses back that can be reviewed on the web or forwarded to the organisation specific email address. This way, an organisation or a company can know promptly the type of responses to the message that was sent out.
The overall benefit is the peace of mind that any cheap bulk SMS provider has the ability to track so as to find out if the text message has been received on the recipient's mobile phone. This means that a record of all incoming and outgoing SMS can be noted and ensured that a delivery tracking analysis is recorded on any marketing or communication campaigns. The records can be exported onto Excel spreadsheet for easy evaluation.
You also need to investigate if the cheap bulk SMS companies listed run high-speed gateway connections to suppliers which means that they have the capacity to cater for high volume distribution to be sent within a short time frame. By providing detailed delivery reports it will show bounces of messages sent through the API or online platform. Of course, this service is at a premium and will charge more than a less prompt telecommunication carrier.
From the selection criteria presented to you on features that would help you make a logical and clear decision, a graphical representation table has been prepared. As you will see, ClickSend has the best features of the five top SMS Bulk providers listed. It ranges from more than 90 out of a 100 which indicates an excellent group of features. The other SMS Bulk providers do a reasonably good job with added value and should not be avoided because they are a little lower than the top bulk SMS provider with respect to features offered.
Pricing of Services
The price variation shows that a number of cheap bulk SMS service providers are leaning towards lower volume distribution while a number of other providers offer better pricing for a larger distribution. Prospective client should investigate SMS providers open rates to check around and see what competing bulk SMS providers have to offer in terms of charges.
To clarify this position on pricing, let's compare different bulk service providers charges in UK. Dependent on the volume of text messages distributed over a period of a month, the charges can vary for 500+, 10 000+, 100 000+, 500 000+ to 1 000 000+ SMS per month. For lower volumes, the pricing schedule varies significantly between different SMS providers. As can be seen from the table, there is a 20% difference in charges. While with larger volume distribution, around 100,000+ that are sent on an average monthly basis, the costs will also range with a significant difference between companies of around 30%. With large scale distribution of one million or more text messages sent on an average monthly basis, that's around 30% price variation.
The table presented shows you the pricing structure of major cheap bulk SMS service providers in UK.
Taking a graphical representation as shown provided below, one can see on a rating of 0 to 100, where 0 is non existent to 100 an excellent service, SMS Broadcast has the best SMS pricing range for the dissemination of text messages based on monthly period.  This is followed by ClickSend which has also a very good comparable costing structure. Then this is is followed by BurstSMS with a rating of 74 out of a 100. While with the other two cheap bulk providers,  the range of messages distributed per month , both SMS Tech and Direct SMS  are not comparable in prices compared the other bulk SMS providers outlined.
Reliability
Of course, there is a need for reliability and reputation of cheap SMS companies to send client's bulk texts to customers, clients, staff or any groups that need to be communicated. One the criteria for selecting an appropriate provider is that you need to be assured that the scheduled SMS is transmitted at set times. This timing scheduling is great for reminders for appointments or alerts or important date notifications to customers, clients, or staff.  Alternatively, by scheduling a text message in advance the client can introduce or promote a marketing or communication campaign.
Numerous SMS service providers discussed do have an uptime guarantee of 99% to 99.9% reliability of receiving the SMS on time as required and in very few cases, the SMS provider does have 100% uptime with a Service Level Guarantee (SLA) as part of their overall assurance.
Again, using the overall selection criteria considered to be imperative from a reliability perspective, the graphical table representation shown below, it is pleasing to note that all these cheap bulk SMS service providers offer a very reliable service to their clients. They are regarded as nearly excellent with a range from 98 to 100 which means that they meet clients, customers and staff expectation of providing mass text information in a reliable and efficient manner.
Customer Service and Reputation
It is one thing to offer a range of features and relatively cheap prices, it is another matter to know that there is, with most cheap sms bulk providers, a nearby customer support centre available in UK to answer queries or assist with the distribution of text messages. It is this factor that has large reputable British and multinational companies being clients of bulk SMS British providers. A list of some of the clients can be viewed on the providers' websites.
You should ensure that cheap SMS companies are anti-SPAM and GDPR (General Data Protection Regulations) compliant.  You should also ask if their service are able to clean a SMS contact list when it is imported and can be reformat when they are provided in different styles. Some have an auto-opt out for clients with free access to their pool of shared virtual reply numbers.
Many Bulk SMS companies provide a promotional offer so that possible clients can be provided with a free trial to review their effectiveness as well as the efficiency of the service. Such free trials vary from 5 free SMS to 60 free SMS.
Using the basis of the graphical table representation, it can be seen that both SMS Tech and ClickSend are standouts in terms of reputation and customer service with a range from 97 to 100. This is excellent from a client's point of view. However the other providers do follow relatively closely.
About Bulk SMS UK Comparison Table
The authors understand just how hard it is to complete a full comparison of cheap SMS Bulk service providers in UK. With so many SMS companies in UK, pricing schedules and delivery networks it can take you a long time find the right provider for you. Having worked with some of the leading SMS UK providers in the past, the key information that British businesses needed were collected from individual British SMS providers websites and inserted into the SMS Comparison Table.
A Bulk SMS Provider UK Comparison Table has been developed and is readily available for readers to use. The authors, having worked with some of the leading cheap bulk SMS service providers in the past, have the expertise to evaluate the key components using a number of key selection criteria (as stated above) to ensure a fair, unbiased and equitable overview of the services offered by a number of these leading providers.
It should be stressed that the SMS Comparison Table and site have being manually formulated and analysed based on SMS providers' websites. They may change their prices and features without notice so it is recommended that readers should check prices and features prior to engaging any cheap mass SMS provider. If you have any information on this comparison table that appears to be inaccurate or needs to be updated, please use the 'contact us' section to notify the owners of the site. They will aim to have the change made as soon as possible.
The Comparison Table is provided for free to assist you however a commission may be sought from the provider's site if you click through their website and engage their services. There are no forms of advertising on this site and the authors have made price and other key features the major selection elements that have led to the recommendations made on the site.
This page was last updated on 8 November 2020.