Essendex as a Premium Business SMS Provider
Essendex is a one-stop shop for all your communication and marketing needs, offering an easy-to-use range of SMS services for businesses as reviewed through the Business SMS Provider Comparison table. This provider offers online SMS text messages which will allow you to send and receive SMS from any web enabled computer. Whether sending reminder messages to individuals or clients or organisations, it just involves one simple step with no setup required.

Essendex is a global business with offices based in UK (Melbourne), France, Germany, Spain with a head office in Nottingham, United Kingdom. Therefore they have a wide network connections with expert developers who will provide the right message technology to ensure that your SMS messages are effectively distributed.  This means that Essendex as a Business SMS Provider is able to integrate SMS into anything that you request.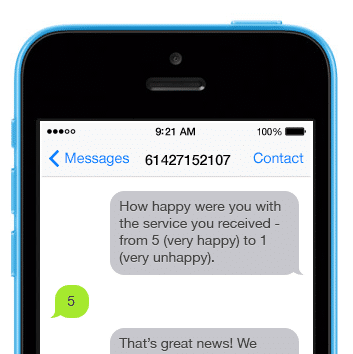 Value Features of using Essendex
A great asset of Essendex is that it requires no software to download or to install. This SMS message text provider is totally web based, which means there is no software to crash your computer. All you need is a web browser and Internet access. The SMS provider will save your contacts, and set up groups to manage your contacts. This will mean that it will send reminders to the groups that you have setup in a matter of seconds.

Scheduled SMS delivery can be done at predetermined times. It is just a matter of notifying Essendex to send SMS for appointments or important dates to customers, clients or stakeholders. If by chance, you are unable to get on your computer when that SMS campaign needs to be sent, there is no problems, as this business SMS company can schedule the reminder message. And in addition, they will be able to track whether a message has been received on a recipients phone. This will mean a complete history of all outgoing and incoming SMS to keep track of your business, communications and marketing campaigns.
Other features include:
 Accredited with ISO 27001 across all their offices
Provides a globally recognised information security standard
Has commitment to 90% of your SMS being processed with a very short period of time (a matter a just a few seconds)
Direct connections to the major networks in UK

And for a complete explanation of their multiple features, they offer a SMS page overview, which discusses several topics, including their latest clients and upgrades to their service. They also provide a trial to the service appears the first time you log in after signing up.
Essendex has an impressive list of clients including brands such as nab, Acer, Peter Mac, Toll and Bupa to name a few. See their website.

Is Essendex Value for Money?
Our Essendex review of Business SMS Provider British Comparison Table found that their charges were more expensive than their direct competitors.  In general, Essendex rates are approximately 25% and upwards more expensive than other business text message providers. For organisations that require minimal distribution of between 1 to 10,000 messages in a month, the charge was over 200% more expensive than their direct competitors.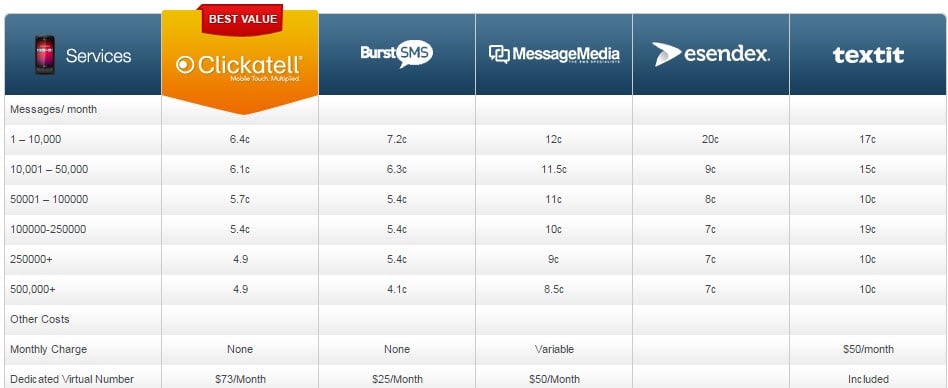 It does not state if it has no monthly fee or recurring fees for dedicated numbers but does state it has a flexible option which is valid for 12 months from the date of purchase.  This company does provide 100% uptime service level agreement guarantee which is reassuring and worthy of consideration.
 Overall conclusion
Essendex is an international-based SMS business provider with an British branch which offers all day and night service with offices in other countries. With the number of valued features outlined, our Essendex review found them worthy of serious consideration except their pricing is one of the most expensive compared to other competitors in the SMS business domain and this matter will become a major factor in considering to engage Essendex.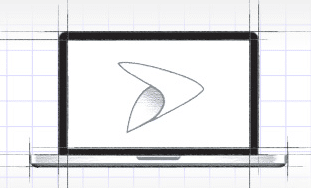 About This Business SMS Comparison Table 
Our Premium Business SMS Comparison Table was developed to identify and compare the services and products offered by the range of SMS providers through means of an independent yet well analysed comparison Table. The information has been categorised into a simplified, readable, and easy to follow tabulated format so as to provide you with key information on key selection criteria such as message distribution costs, networks availability, customer service support, credit availability, and so on.

It should be stressed that the information provided in the table and our Essendex review should only be used as a guide as prices and features may be updated at any time by the business providers' websites without any prior notification.
The Business SMS Comparison Table is provided for free to assist you, however a commission may be given from the provider's site if you click through their website and engage their services. There are no forms of advertising on this site and the authors have made price and other key features the selection elements that have led to the recommendations made on the site.