About Message Media
Message Media is a dedicated business SMS service provider in UK focusing on both small and large volume text messaging through a cost-effective, high performance and timely means compared to other communication tools and therefore more likely to be received and opened than phone messages or emails in a short span of time. It web-based SMS service allows you to start sending SMS to your contacts directly from their Message Media interface.
Message Media covers a range of businesses including marketing and promotions, healthcare, retail, education, sporting clubs and associations as well as hospitality.
Benefits of Message Media as a Business SMS provider
When creating this Business SMS Provider Comparison Table, Message Media was considered one of the premium business SMS providers in UK when compared to other SMS providers, as it becomes apparent that this provider offers a full email client integration system with no added software requirements. This means it offers instant Web-Based SMS service which will allow you to start sending business SMS text messages to your contacts directly from their interface system.

Some of the benefits experienced are the 100% uptime guarantee so that your message is assured of getting through using multiple routes ensuring the best value and delivery. The review also found this company is extremely customer service focused on their headquarters in Melbourne. This means that there is an ease of communication within UK should there be a need for immediate response to all inquiries and resolve support issues from a customer service perspective. Therefore Message Media provides a full-service level agreement that provides this certain guarantee like reassurance.
It should also be emphasized that it provides multiple gateways and routes through its national delivery system to all British carriers. It provides a robust set of networks and coverage using  British carriers through either Telstra, Optus, Virgin Mobile, 3 or Vodafone.
Message Media provides a two-way SMS communication system. It's Email to SMS service allows you to send one-off SMS messages from your email account to a mobile phone. You can also receive replies back in the form of an email into your inbox. This means that Message Media can handle user-replies with ease allowing your customers or clients or employees the ability to respond to your original text message thereby opening up immediate two-way communications, invaluable for events such as:
Marketing and promotions
Send details of special deals and offers to your contacts
Send appointment reminders and thereby reduce no-shows
Notify customers of sales and other events
Send timetables, results and event information to students
Notify sporting fraternities about games and events players and thereby encourage supporters
Our Message Media review found they have the appropriate application programming interface (API) so that software developers can integrate a bulk SMS service into an existing system. This allows third-party developers to access their platform from an external source.
Value for Money?
As can see from the Business SMS Provider Comparison Table, Message Media is by no means the cheapest SMS provider but is very comparable in price. On all accounts, whether it would be smaller number to a large number of message distribution, it is much cheaper compared to most of it competitors and in some cases less than 10% more expensive in some categories and the cheapest with very large quantity distribution per month.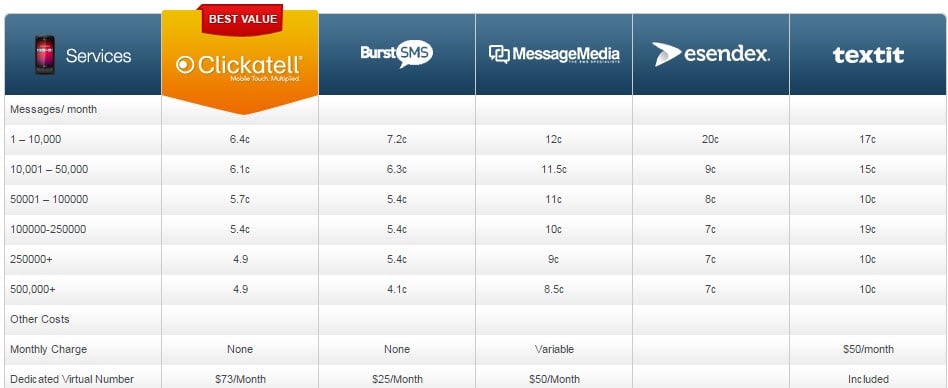 Message media does provide unlimited credit availability and does not charge a monthly fee, no set up fees,  and no contracts as do some of the other business SMS providers. 
SMS Marketing
With the Message Media review of its SMS marketing offer, it offers a good marketing platform for businesses to market their product or services through the avenue of short, accurate and direct messages that can be directed at consumers' mobile phones. Text message marketing is the driver for sales and the direct engagement of customers. The Message Media review shows that it provides a reasonably affordable way to promote a brand directly to its target audience ensuring that consumers are more likely to take action upon receiving a text. This means that large marketing and promotional costs previously aimed at the general public can be reduced by this direct form of communication. It can be seen from the Message Media review that text messaging marketing can mean a more personable approach and a better relationship with customers, keeping them better informed and empowered.
SMS API
When evaluating the Message Media review, it talks about API what they referring to is their Application Program Interface, which is a set of tools for building software applications.  What an API does is that it specifies the way software components will interact with the server. It is an interface with either the web server or a web browser and usually limited to a web application client-side. Therefore it is a form of technology that is able to change the standard type of email format into a SMS or text message. For clients who want to use the Message Media gateway process, it is just a matter of customizing the email in a way to be able to send the text message directly to those that are nominated to receive the information. The API allows for the email to be converted into an SMS compatible format message. This means that the client can send to individual numbers or can format its database of numbers for distribution in mass. Message Media review will show you how you send personalized emails through platforms such as Gmail, Outlook or AOL. You can also send from external CRM systems, internal software programs and third-party software. 
Overall Conclusion based on Business SMS Provider review
When comparing with other Premium Business SMS providers, Message Media is considered to offer a wide range of services and has most reliable methods of sending an SMS from your computer and taking into account the cost factor. It is this latter aspect, which is the reasonable and favourable comparable charges than its business SMS competitors may influence your decision prior to engaging Message Media as a Business SMS provider.
About Business SMS Comparison Table
This Business SMS Comparison Table has been developed to identify and compare the services and products offered by the range of business SMS providers through means of an independent yet well-analysed comparison table. The information has been categorised into a simplified, readable, and easy to follow tabulated format so as to provide you with key information on key selection criteria such as message distribution costs, networks availability, credit availability, and service support and so on.

It should be stressed that the information provided in the table should only be used as a guide as prices and features may be updated at any time by the Business SMS UK providers' websites without any prior notification.
The Comparison Table is provided for free to assist you, however, a commission may be given from the provider's site if you click through their website and engage their services. There are no forms of advertising on this site and the authors have made price and other key features the selection elements that have led to the recommendations made on the site.