Textit as a SMS Marketer Provider
British businesses and organisations, whether large, medium or small, often need to send hundreds or thousands of SMS text messages for marketing campaigns in order to provide customers, clients, stakeholders or staff with updated information, which in a number of cases may be critical or time-sensitive.  This SMS Marketing Comparison Table compares the features of Textit to other SMS Marketing providers. Textit uses its web based bulk SMS service to instantly deliver marketing messages to your customer's mobile for reasons of promoting new products offer, vouchers and for competition purposes. Textit allows you to build your own SMS system or develop and distribute through a 'drip system' marketing program. By selecting the type of marketing message needed and determining the timing, you can keep your end-users well informed. You can send your customers reminders at any point of time prior to or during your campaign.
Textit allows you to build your own SMS system or develop and distribute through a 'drip system' marketing program. By selecting the type of marketing message needed and determining the timing, you can keep your end-users well informed. You can send your customers reminders at any point of time prior to or during your campaign.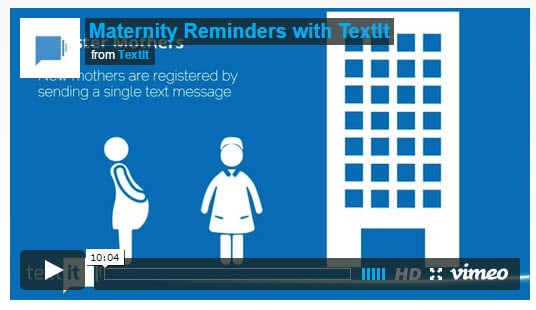 Features of Textit 
As one of the leading British SMS Marketing service providers, it was considered in the SMS Marketing Comparison table, based on a number of key selection criteria including features. Some of them include:
Ability to distribute SMS from the internet
Login from any computer with a standard web browser
Personalize outgoing SMS
SMS can be scheduled at a later date
Use a standard Text or CSV file containing multiple phone numbers which can be exported from the client's existing database
Individual usernames and passwords for each client to ensure privacy
Create groups of addresses so as to target specific groups of people and differentiate target customers.
As a premium text messaging platform for business, it provides high-performance SMS applications, delivered via direct connections with best practice security provided. It can offer services to marketers, clubs, government, retailers, charities, enterprises and educational institutions.
At the core of TextIt lies its exclusive 'Flow' engine where you can set up or modify a complex SMS application without the need of a programmer or expensive consulting company. Using a basic Android phone, it can become easy to launch your application instantly in any country while avoiding expensive set-up costs or external technical support.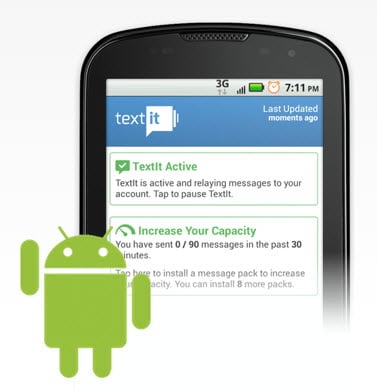 Textit SMS run high speed connections to suppliers which gives them the capacity to take high volume clients that need large SMS quantities to be sent within short time-frames.  You can view message delivery reports or view history of messages sent and provide you with delivery reports which show elements such as bounces of messages sent through online platform.
Our Textit review found that it provides personalised broadcasts allowing UK clients to easily broadcast their SMS to a group of users, even allowing to customize the message just like a mail merge. You can send broadcasts texts immediately or at a later time even repeating them on a set schedule if you like. It is able to keep track of every user who has interacted with TextIt using contacts. TextIt automatically creates a contact for each user and saves the full message history. One can group contacts as one likes and add custom fields that are appropriate for the organization.
As can be seen in the Comparison Table, there are other conditions that Textit does not offer such as direct SMS API, ability to forward emails; mail merge vial Excel and no Microsoft Outlook SMS, no web chat, and no server uptime details unlike other competitors that provide uptime guarantees.
Is Textit Value for Money?
Finding the right SMS Business solution in UK marketing field requires a review of pricing of SMS. Comparing the SMS providers in the SMS Marketing UK Comparison table, our Textit review found the provider is the most expensive ranging above the competitors' price on average around 50% more than other comparable service providers. It has the highest prices in all price brackets for different distribution numbers. Most notable is the middle range of 100,000 to 250, 000 SMS messages that could be sent each month.

Additionally, unlike the other text message reminder providers which have one year or unlimited credit expiry, Textit has a monthly by monthly credit expiry condition and a monthly charge.
Customers can manage their own SMS credits and purchase additional credits by way of using a credit card when needed.
Reliability of Textit
Although our Textit review found the provider to be significantly more expensive as a SMS Marketing provider, their exclusive Flow engine which anybody can set up or modify for a complex SMS application without the need of a programmer or expensive consulting company is a key positive. For most British companies looking for a Marketing SMS provider, this may be a greater benefit to offset the increased charges.
There is no mention of their uptime guarantee or their latency factor in ensuring SMS reach the end users within a short period of time. However, Textit does have a full reporting facilities for letting you know the details on all SMS sent which shows which text messages were delivered so that invalid numbers can be removed avoid unnecessary needs in the future. The client has full control to change and manage accounts details including access to Textit dedicated support portal.

Marketing companies and Marketing Departments within a Business which need to send critical and time sensitive messages, they should engage with a premium SMS Marketing provider like TextIt that offer 'tier 1' or 'direct to carrier' gateways, liking to British networks to maximize delivery delivery and minimize lag times.
Textit as a reputable global distributor
Textit already works anywhere in the world, instantly. Simply by downloading its free Android application to create an instant, reliable and inexpensive connection to TextIt, messages will then be sent and received using phone's local SIM card automatically. Whether in the US, Canada or the UK, one can easily connect to an aggregator like Twilio  or Nexmo account to take advantage of instant low cost messaging in your own country. These aggregators provide virtual numbers that can be used to send and receive messages on behalf of your account. In countries where virtual numbers are not provided, you can use a cheap Android phone to send or receive text messages.  It is also possible to take advantage of short codes, reverse billing, or even direct connections with local telecommunication carriers.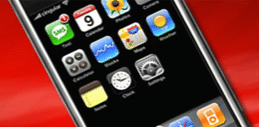 Many businesses require a Marketing SMS service that will ensure their marketing messages are received as well as the need to know when their particular audiences are reachable. That's why TextIt highlights with its SMS service helping you to identify users who have questions or problems, making it easy to address your concerns. Send and receive SMS messages and organize them using labels, just like email.
About SMS Reminder Comparison Table
The authors of this SMS Comparison Table and site understand just how hard it is to compare SMS Marketing providers in UK. With so many providers in UK, pricing structures and delivery networks it can take a long time to understand all features that you need to find the right provider. Having worked with some of the leading SMS UK providers in the past, the key information that British businesses needed were collected from individual British SMS providers' websites and inserted into the SMS Marketing UK Comparison Table.
The original table had a number of SMS marketing providers but those that had noncompetitive prices for British companies were removed so as to not over-complicate the comparison table. The final data was collected independently without any help from UK SMS providers. As this data has been gained manually, providers' websites may change their prices and features without notice, so it's recommended that you double-check prices and features prior to purchasing text message products.
If you find any information on this site that is inaccurate or needs to be updated please use the 'contact us' section to notify the owners of the site. We will aim to have the change made within minutes.