Who Is Clickatell?
Clickatell is considered to be a leading mobile messaging service with over 1000+ global networks with one API using their Bulk SMS network. Reviewing the range of gateway SMS providers in UK. It is a global leader in the SMS gateway space with a significant customer reach. It still the largest online SMS gateway covering a wide range of 819 networks in 224 countries and territories around the world.
From the extensive review of numerous SMS Gateway providers, Clickatell use direct telecommunication carriers within their gateway service in UK ensuring high reliability in delivering text message promptly and effectively. Such premium carriers ensures that text messages will optimize SMS marketing campaigns, CRM messages, and time critical alerts and notifications. The service remains within the borders of UK and they ensure privacy is a priority. Therefore, such communications will reach any British mobile phone through their simple online SMS Gateway platform.

Skip ahead
Clickatell Gateway Features
From the number of features that make Clickatell a good SMS gateway service provider, it includes:
Cloud-hosted, user friendly web-based interface that allow you to manage your SMS API connections
User-friendly web-based interface allows you to manage your SMS API connections.
Use a wide variety of APIs to quickly and easily integrate with its global SMS Gateway.
Single account interface for multiple business users
A detailed real-time reporting system .
Capable of delivering thousands of SMS per second.
This SMS provider offers a full client email integration system without the need  for any new software.
As a global leader in mobile messaging, Clickatell have one-way (1-way) and two-way (2-way) messaging available via long numbers and random short codes to enable your business to connect, interact, and transact with customers wherever they are.
Furthermore, it has a two-way communication system that will allow user-replies between customers or clients or employees from the company sending out the text messages to opening up effective communications which can be considered invaluable when it comes to staff rosters or appointment reminders. 

It is a Sydney based company with a support services within UK for quick responses when it comes from a customer service perspective.
Clickatell is considered to offer a good Service Level Agreement (SLA) which means there is a level of reassurance from a guarantee perspective. When comparing this provider against all other gateway providers in UK, it ranks highly for features among its competitors.
Value for Money
Our Clickatell review found they are not cheap among their gateway competitors in UK. When comparing distribution for different volumes of text messages on a monthly basis, they are more costly than their competitors in SMS Gateway UK business. Based on the cheapest charges provided by other providers, Clickatell varies approximately between 8% to 25% more expensive but still comparable to some of the other providers' charges presented in the table below.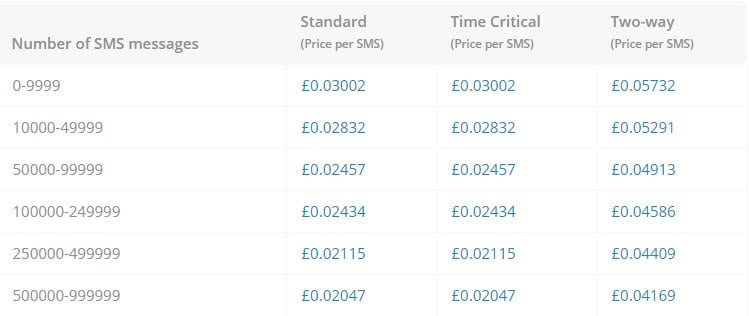 It should be noted that Clickatell does not offer unlimited credit availability and has a small charge per month for use of virtual numbers. These factors will need some consideration when deciding on which company to engage. You can view the full SMS Gateway comparison table to compare more prices.
 Reliability of Clickatell as a SMS Gateway provider
When comparing different SMS gateway providers, the ease and reliability are factor that require serious consideration when sending an SMS from a computer or a mobile. Although Clickatell does not offeria full uptime guarantee like some of the other providers, it still does state that it has a 99.91% guarantee on its uptime which is near the maximum available.
Such reliability as a service provider makes such SMS distribution ideal for businesses and organisations whether small, medium or large. Again, Clickatell ranks well among its gateway competitors with regard to reliability as a service provider.
Reputation of Clickatell as a SMS Gateway provider
The Clickatell review disclosed it as a major SMS gateway provider service with a significant global market share competing with other large SMS players. It does overtly exhibit its clients like a number of other gateway providers.
It looks after Deloitte which enables its customers to provide a secure SMS tip-off line to employees, Oanda Asia Pacific using SMS to send price alerts to FOREX traders, Rolls Royce uses SMS to update customers on the latest industry news to ECollect using SMS notifications to contact debtors has established itself with a good reputation.
It should be noted it is not the cheapest provider with a credit availability of 120 days unlike its competitors which offer either 12 months or unlimited time. This may have an influence if you were to engage them.
About SMS Gateway Comparison Table
SMS Comparison Table and associated site has been developed to allow readers to compare text messaging services (SMS), price and features offered by SMS gateway providers. It was developed by a group of independent SMS practitioners (who now do not work with any of these companies) to review these SMS gateway providers independently and in an unbiased manner. The team of reviewers appreciate the need to allow prospective and present clients to understand and review the options available when engaging a SMS gateway provider. The information provided is simple, easy to follow and place in a comparative table format so as to provide you with key information on various selection criteria for your consideration.

This site provides a guide only to prices, services and features and information may be updated by each SMS Gateway provider at any time without any notice in advance. Therefore, if you consider the information on this site to be inaccurate, the authors would encourage you to notify them so that such changes can be made promptly.
This Comparison Table is provided for free of charge although there may be a commission requested from the provider if you contact them and engage their services.
Updated on 10 March 2019