About IntelliSMS
This is an SMS service that commenced over twenty years ago to develop innovative software solutions for business users. Since then, it has specialized in mobile messaging solutions, with sophisticated software by hosted SMS internet gateway services and over the years expanded beyond UK to overseas countries particularly in Europe and Asian Pacific regions.
IntelliSMS, known as IntelliSoftware, has been engaged to work with all types of companies, whether SME or large organisations within the public and private sectors. It is a gateway provider to numerous telecommunication operators around the globe.
The range of large companies using IntelliSMS is significant ranging from Hewlett Packard, Ericsson, Vodafone (Albania), Capita, Lastminute.com, and Microsoft and AMP.
As an experienced SMS gateway provider with a group of technically minded people with sound knowledge of marketing and promotions, it understands what the customer wanted to do with the information provided.

Pricing of IntelliSMS
Their website provides an easy to follow overview of the charges of each SMS distributed. It is well displayed and provides the business with a clear overview of the charges incurred.
The pricing structure of IntelliSMS is dependent on the telecommunication carrier that will be used.  There are different means of distributing SMS. The 'UKDirect Message' price schedule means that four (4) telecommunication carriers will be used within UK. They are said to offer a reliable and fast delivery to the mobile end user, taking less than 30 seconds from initiating the message to when the SMS was released. The SMS is charged at a single message rate.
Alternatively, the 'Economy Message' system means that overseas telecommunication operators will be used but with less certainty on reliability and delivery times. Such networks do depend on traffic demands, delivery times and the level of priority provide. Therefore there are no guarantees that can be made. But as a result, the SMS rate is cheaper.

Web SMS is provided free of charge with no setup or monthly costs. The full two-way reply service is offered at no extra costs. However, users replying to the business messages will be charged based on the SMS sent.
Free trial of their SMS API Interfaces is offered before engaging the company. IntelliSMS will get you start up by sending SMS messages with 5 free evaluation credits.
Features of IntelliSMS as a Gateway Provider
This SMS provider has a wide range of versatile features that make it stand out as an effective text messaging service. Its website is very simple in appearance and provides the reader with direct information in a relatively concise fashion.
Like a number of other gateway SMS providers, IntelliSMS can distribute large volumes of text messages at any one time to a range of mobile phone users, with the ability to receive responses from mobile users in return. Mobile contacts and group can be easily managed by this provider and all message sent can be analysed through their message delivery report.
Some of the main features offered by this SMS gateway provider for businesses include:
Two-way SMS text messaging in your Web Browser – it is simple and effective way to send and received text messages from the business standard internet web browser.
SMS add-in for Microsoft Outlook – this is a two way text messaging service.
Two-way SMS for Cloud and on-premises Apps – through a means of interfaces it can integrate the text message functions into the business own cloud based or on premise systems.
Dedicated virtual numbers and short code keywords – text messages can be received from mobile phones using a dedicated long number or a shared short code. This way the business can review in their inbox or email the effect of the message initially sent out.
Text to Voice SMS – rather than words, by sending a voice message to mobile phones and landlines, the communication message is automatically changes into spoken English.

There a number of additional features that can be reviewed on IntelliSMS website.
IntelliSMS Gateway features
IntelliSMS Gateway offers a mobile text messaging service that is fast and reliable at a relatively reasonable rate. Their Internet to SMS gateway allows messages to be sent to over 160 countries around over the world supporting interfaces such as SMS HTTP, SMTP, SMS.Net, PHP SDK, SMS COM, and Java SDK.
The provision of their SMS gateway means that the business or client can specify the sender's identification of each text message distributed and therefore giving the receiver acknowledge of who sent the message and thereby branding the SMS message.
From the use of Intellisoftware gateway a business can request an online report which provides delivery status of each message sent. It uses two redundant services nodes that mean the service is not susceptible to local internet outages. This means if one service node is not available, it can divert automatically to another route. The accessibility to a number of telecommunication carriers or operators means that the best performing route will be available to be used.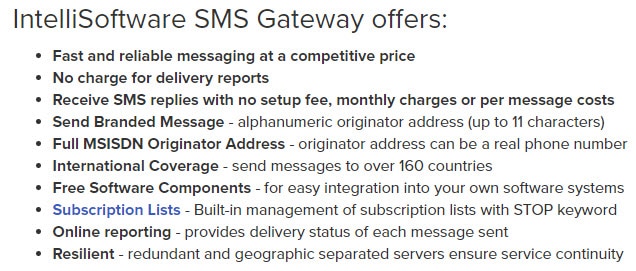 Reliability of IntelliSMS as a gateway provider
The reliability of text messaging service being sent as requested and delivered to the end users on time is relatively well covered by IntelliSMS compared to other UK gateway SMS providers.
It states that the text message service using 'UKDirect Message' will deliver text messages to 99.7% of all mobiles in less than 10 secs. It also states that 99.9% of the time, messages will be submitted to mobile network in less than 20 minutes. They use leading UK carriers including O2 and Vodafone,
With regard to the category 'Economy Message' IntelliSMS states that 92.0% of SMS will reach mobile users in less than 10 secs and 99.0% of the time in less than 60 mins.  This is well outlined in their Service Level Agreement (SLA) with a number of provisions outlined to clarify their up-time and latency issues.
One of the rare pieces of information that is not seen with many SMS providers is IntelliSMS warranty type offer of providing a full or partial refund if the business is not satisfied. If the business does not use the service, and no SMS credits are used, then the business will be fully refunded. If SMS credits are used then a calculated refund will be given of unused portion of the purchase. Refunds can be expected within 2 working days.
What customer support service and security does IntelliSMS provide?
IntelliSMS has a technical support service present during business hours from 8.00am to 6.00pm from Monday to Friday with a telephone number, a facsimile (a little outdated in this day and age!) and email address. Outside these times, there is also a 24/7 telephone support for matters relating to Internet SMS Gateway issues only.  If none is available, the provider does state it will respond within 4 hours of receiving the call. It has the provision of a Support Forum where it provides answers in a Q & A site on their website.
The matter of privacy and internet security is very visible with IntelliSMS, unlike some other SMS providers. It states that all information provided to the providers will remain the property of the account holder and will not distribute any data or information to a third party, without approval, except where legally required by law to do so. This is with particular reference to any databases, IntelliSoftware does not use supplied phone numbers to send advertising or marketing messages.
Similarly, personal and sensitive information is considered of the highest security and is encrypted using SSL/HTTPS.

About This Text Message Gateway Comparison Table and Site
This SMS Comparison site and table is available free of charge to all users interested in comparing different SMS providers for value, pricing, features, APIs, reliability and customer service.
It was established four years ago as a result of demand from businesses who wanted an easy to follow analysis of the effectiveness and efficiency status of SMS providers, whether they are Bulk, Gateway, Marketing or Email to SMS providers.
The Comparison Table and associated sites are developed by a group of experts in the SMS field who no longer work in that particular area and feel they can provide an independent and unbiased review of SMS providers in UK.
However, SMS providers can change the information on their sites without any notifications, so during your review, should you find any different information to what was provided in this site, please let the authors know so that any changes can be made.
The authors aim is ensure you are provided with an unbiased, fair and reasonable overview of some of the major UK bulk SMS providers for your decision making process.
Latest update on 9 December 2019